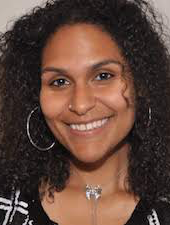 Dianeldis Disla
Executive Youth Director, Fearless Flyers
Dianeldis Diany Disla was one of the first Fearless Flyers participants to graduate the program back in 2015. She saw the immense potential of the Fearless Flyers program and knew it was her Destiny to be a part of this important mission. With marking her 5th year being involved, she has implemented a lot of new and innovative ways to help make sure OCFF seed is being watered and forming its roots. With 5 years of non-profit experience, background and community work, Mama Flyer has the formula to make things grow. She dedicates her time to manage daily operations for the Organization, not only for Fearless Flyers, but for OutCycling too. Her main objective for the organization is to go INTERNATIONAL and connect young queer inner-city youth around the world to this amazing opportunity that not only helps end Isolation, but gives its graduates FREE bicycles, helmets and locks.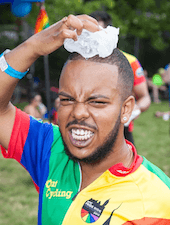 Joshua Terefe
Program Director, Fearless Flyers
Joshua Terefe has dedicated over 10 years advocating and working within the LGBTQ+ community. He has facilitated multiple groups within the New York Metro Area. Joshua has experience working specifically with queer identifying youth, young adults within foster care, and elders of transgender experience.

Joshua joined Fearless Flyers in 2015, and was a part of the first ever graduating class of the program! Since then, he has graduated from ride lead, to a senior ride lead, to Fearless Flyers' Program Director. He looks forward to a future filled with more LGBTQ+ empowered cyclists and believes Fearless Flyers is a huge part of that imagery!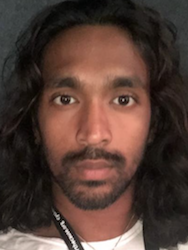 Mohammad (Momo) Ullah, Pronouns: He/Him
Operations Manager, Fearless Flyers
"I first became involved with OC Fearless Flyers as a youth participant. The program helped me improve my cycling skills and social skills. It made me feel like I belonged to a team and was part of a larger community. Now I want to make sure I can give this opportunity to other LGBTQ youth in our mission to end isolation."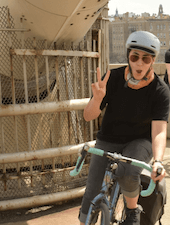 Alexis Diaz, Pronouns: They/She
Super Supporter, Fearless Flyers
Alexis Diaz, LMSW, has been a social worker since 2011 and has worked in youth development and school-based programs from early childhood through college. They credit their family for teaching them to ride a bike as a child, which led to becoming a bike commuter in 2014 and joining Fearless Flyers as a volunteer in 2019. Alexis is passionate about working within queer communities of color to elevate our voices, make visible our strengths, and celebrate our beauty.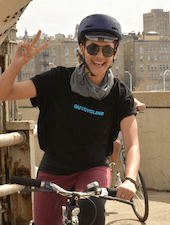 Jenna Frasier, Pronouns: They/She
Coach, Fearless Flyers
Jenna Frasier is a yogi and social worker who is passionate about combining their skills to nurture healing & liberation. Currently, they help lead fundraising efforts and digital strategy at I Challenge Myself, and prior to that, they taught yoga in elementary schools in the South Bronx and Harlem. They love cycling in community with other queer folks and are proud to coach Fearless Flyers!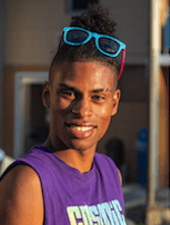 Millie Ducasse, Pronouns: All
Ride Lead, Fearless Flyers
Hii it's the wonderful and fabulous Millyyyy. I'm 26, ALL pronouns are welcomed and from the Bronx. Working alongside OCFF is a dream come true. As a Fearless Flyer Leader my job is to teach the next generation how to ride their bikes in accordance to NYC laws and inspire them to become leaders themselves. We have to be up early Saturday mornings working on ourselves and making the change to live a healthier lifestyle. At the same time we're also having fun building bonds and memories with each other, and creating that close family that's always there for one another. I'm so glad to be able to be myself, to be able to lead the next generation of flyers, to be relied and depended on not just by them but from my FF team and OC members. Being able to deliver with all my being and soul but at the same time having fun with it is the essence of Milly. And now you'll be getting more of me as I'm co-host of the YouTube series alongside Momo. So come bask in the essence that is Milly. Make sure to tune in!